Luscious® Tristaniopsis laurina 'DOW10' PBR
Description: Luscious® Tristaniopsis has gorgeous shiny foliage topped off with red coloured new growth and yellow flowers with a sweet perfume.
Its larger leaf size than the common form makes it a great native alternative to Magnolia.
Bark is a striking port colour that peels back revealing a mottled cream stem.
Size: 7 – 12m high x 5m wide.
Planting Density: 1 plant per 2-6m², 1 plant per 3-5 linear metres.
Uses: Ideal for street planting, parks, ovals and home gardens.
Position: Full sun to part shade. Tolerates frost and drought, but performs best in a warm moist position. Luscious® Tristaniopsis suits a wide range of soils.
Care: Water as required for 8-13 weeks until established. Plant in a well mulched garden (chunky mulch is recommended). If required use slow release fertiliser in spring.
Where it works: QLD, NSW, VIC, SA & WA.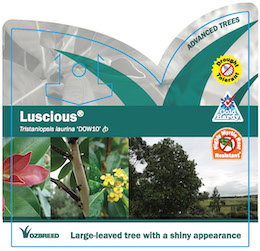 Other Suggested Varieties:
Take a look at the whole Advanced Trees range to decide which plant is best for you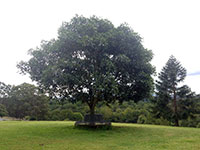 NEW PODIUM™
Ficus brachypoda 'BWNPOD' 

Intended

VINTAGE RED™
Eucalyptus cladocalyx 'EUC78'