Hardy Exotic Range
The Hardy Exotic Range of plants takes the beauty of exotic plants and gives them better performance and lower maintenance for the landscape. These plants have been bred to be non-invasive.
Click on one of the plants below to find out more.
Agapanthus plant, with its deep green soft fleshy leaves and distinctive vivid blue, white or purple flowers perched on tall thin stems makes a very impressive summer showing in gardens throughout Australia.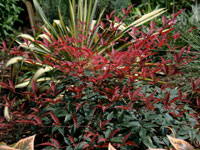 FLIRT™
Nandina domestica 'MURASAKI' 
Trachelospermum and Viburnum