Ozbreed Zen Grass®
Zoysia spp. 'ZOY01'
Intended
A low-maintenance, fast spreading alternative to traditional lawns.
Japanese Lawn Grass Zoysia ssp is tough with less dropouts
Less weed invasion due to denser growth
Most weedscan be sprayed out selectively
Fast spreading
Has a nice, wavy look
Only needs to be mowed once every 1-2 years
Ozbreed Zen Grass® will change the way lawns are grown in Australia.
It is beautiful with its uniquely rippling and undulating surface. When grown like a low growing undulating lawn, big advantages abound.
This no fuss plant requires only yearly trimming, reaches a low vertical height, achieves a moderately high density that greatly reduces weeds, has good wear tolerance, and best of all, is not slow to fill in like the traditional undulating Japanese style lawns.
People love the undulating look of a beautifully grown Japanese Temple Grass (Zoysia tenuifolia), but only a few can successfully grow it. It is too slow to cover, taking years. It is also weak on drought and has very poor performance.
After mowing, it takes forever to come back and has dead patches. On the other hand, Ozbreed Zen Grass® grows in quickly within a growing season (spring to autumn), and even more quickly if planted closer. It mows better and rarely suffers from dieback.
The recommended planting rate is 4 to 6 per square metre, and the recommended planting size is small pots.
If planted in mulch, it tends to have even better undulation and needs less mowing for some reason. The mulch reduces weeds as well. The Ozbreed Zen Grass® grows over the top of the mulch and roots through it.
Its deep green colour in summer and winter in most parts, its ability to grow in most soils, and its natural resistance to disease and insect damage are just some aspects that make this lawn a great choice. In courtyards, residential front yards and backyards, or around offices, it is the smart choice.
For generally more passive areas, this should be the lawn of choice as it saves massive time, needing on average only one mow per year.
However, it is not for areas where people regularly sit and picnic, or kick a footy, or play backyard cricket. These activities are best for regular lawns. Sure, a dog can run on it, and you can walk or play catch on it, but its undulating look is best for lower use areas.
Ozbreed Zen Grass® can be mown like a normal lawn, too, should you prefer the manicured look.
Just mow monthly or when needed. In its natural Ozbreed Zen Grass® state of undulation, its flowing green ripples make it the ideal lawn for highlighting gardens, garden walkways, and the general low to no mow lawn.
Mow it where you want a regular lawn, and neglect it where you want a natural Zen grass look. It is ideal for Japanese gardens, between pavers, cottage gardens, the manicured look, or the average smart Aussie home lawn.
The calming nature of this natural Ozbreed Zen Grass® with its rhythmic waves could be just what is needed for a peaceful, more relaxed environment to chill in.
A Japanese garden-style lawn, that is easy to preserve.
Height & Width: 10-20cm H x 1m W
Planting Density: For fast coverage, 7-9 per m – 27-9 per linear metre
Uses: No or low mow lawn alternative, garden understory,Japanese garden
Position: Extremely tolerant to drought, frost and heat. Weartolerant. Survived floods. Tough in shade.
Care: Water for 4-8 weeks until established
Where it Works: Likely Australia-wide – Trial in QLD and ACT
Best Planting Time: Spring through to autumn
Soil Type: Low fertiliser requirements
Ozbreed Zen Grass® Resources
Ozbreed Zen Grass® Videos
Other Suggested Varieties:
Take a look at the whole Hardy Exotic range to decide which plant is best for you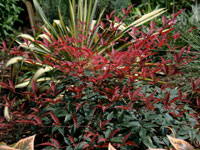 FLIRT™
Nandina domestica 'MURASAKI'