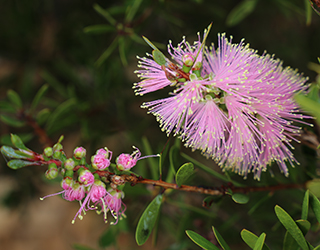 Sweet Burst™ Callistemon spp 'CNU15'
Pretty baby pink flowers add a soft burst of colour
Provides a beautiful feature in any garden or landscape
Great for attracting bees and native birds
Description: Sweet Burst™ Callistemon is a semi-compact fine leaf variety, that produces masses of soft baby pink flowers in spring. This Callistemon will provide a beautiful feature plant in any garden of landscape. It is semi compact and is a low maintenance Callistemon that requires little to no pruning to maintain a tidy form.
Size: 90cm-1.2m high x 90cm-1.2m wide.
Planting Density: 1-3 plants per m², 1-2 plants per linear metre.
Uses: Hedges, mass planting, feature plant, specimen planting and contrast planting.
Position: Full sun to part shade.Works in most soil types. Good drought and frost tolerance once established.
Care: Water as required for 8-13 weeks until established. Plant in a well mulched garden (chunky mulch is recommended). If ever required, prune every 3-4 years for a natural shape, or every 2 years for a tidy hedge. Pruning is beneficial as it will encourage dense, bushy growth.
Where it works: NSW, VIC, SA, WA Sth QLD (more testing required for Nth QLD & ACT).
For retail nurseries and wholesale growers click here.
GROWER KNOWLEDGE:
This website gives general information for the states/regions in Australia. For local information on which plants work in your area contact your local grower. Local grower knowledge is vital, this website is no substitute.
HEIGHTS:
Heights shown on the website are for general gardening conditions. In well maintained gardens, some plants will get taller.
Unfortunately we have no current online
stockists for this variety. For availability,
please contact your local retail or wholesale nursery.
For retail nurseries and wholesale growers click here.

Download Sweet Burst™ brochure | 329KB
Download Sweet Burst™ images