Blush™ Nandina domestica 'AKA' PBR
Produces red new growth when other Nandinas are green (spring and autumn)
Medium dwarf Nandina
Less invasive – safer choice near bushland
Description: Blush™ Nandina is a revolutionary medium sized dwarf Nandina that produces red new growth in spring and autumn.
In winter months, Blush™ Nandina turns vivid red all over. It is 20% smaller than Nandina domestica 'Nana', a perfect height for fences, borders or hedging.
Size: 60-70cm high x 60-70cm wide.
Planting Density: 3-6 plants per m², 2-3 plants per linear metre.
Uses: Low hedge, shrub or feature.
Position: Full sun to moderate shade. Tolerates drought and frost. Blush™ Nandina tolerates free draining to heavy clay soils.
Care: Water as required for 8-13 weeks until established. Plant in a well mulched garden (chunky mulch is recommended).
If required use slow release fertiliser in spring. Leave unpruned or prune to shape every 3 years if required.
Where it works: QLD, NSW, ACT, VIC, TAS, NT, SA & WA.
Other Suggested Varieties:
Take a look at the whole Hardy Exotic range to decide which plant is best for you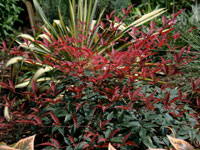 FLIRT™
Nandina domestica 'MURASAKI'